Natasha Bevz: To give is a great satisfaction in life
Today we talk about charity more often. Many people need help and support. Natasha Bevz — founder «Eagle Trading», business- trainer in MBA program, member Kyiv Lions Club, Treasurer in Kiev Lions Club; take care children with sight disability in Samgorodok. We talked about why is it important to help?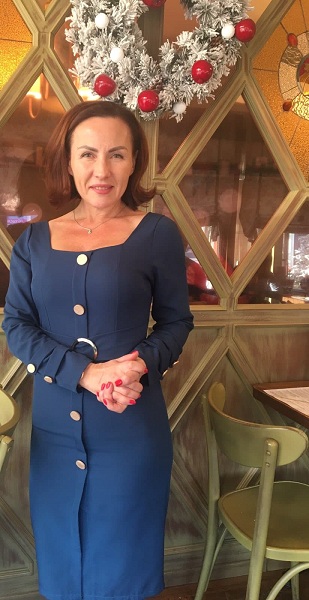 Why did you start to do Charity work?
For me; CHARITY is a style of living. I work for charity because I can not imagine without it.
When did you start to be active in charity?
I became volunteer when my daughter was growing up and it gave me opportunity to spend time with her. I visited different orphan houses in Kievskiy region and Khmelnitskiy region. Four years ago, I visited an orphan house in Samgorodok. It is a school for blind children and since that time, I am still working with children there which has grown to 180 children with sight disability.
Tell us your Organization — Kyiv Lion's Club. 
I am an active member and Treasurer at Lion's Club in Kyiv. International Lion's club is a Non-Government Organization. Our club organize several charity events with volunteers. The main purpose of such events is to raise charity and support local community in need. Our Seven-member committee decides how to distribute funds with volunteer support.
To Whom Lion's Club Can Help?
Club can help any organization that is non profit and needs community support. I particularly support my Angel's Program each year that I have created. Our priority is to help children, disabled and senior citizens. One of club project is to purchase Children's Hospital medical equipment. We have donated medical test equipment to Department of Neurology and cardiology.
Do you have stories that you remember?
Of course. I remember lot of different stories.
Last year; during the week of St. Nikolas Day, I was walking home after work and it was very cold. I even forgot to wear gloves as I was busy thinking about my 180 children. I had organized Angels Program to celebrate with children and did not have enough gifts collected for them. I know they will be waiting for such day to brighten their day and feel loved and cared for. I was worried and start calculating how much will I need to buy all the gifts needed. All of a sudden, my phone rang and Natasha Koval (President of Lion's club) on other line said to me that she has managed to collect $ 1000 for our Angel's program and ready to help me finish shopping. I was so happy and crying happy tears at same time. With such donation, we were able to buy all the gifts, bathroom supplies and school supplies as needed by teachers for children. We also were able to repair floors, windows and doors of class rooms to keep warm during winter. My children also hand made wooden toys and art that we auctioned in our charity events and donated money to their school.
Another story I remember is about Anni Nemikas. He called me and said that he has 15 gifts for children. Can you imagine 15? Usually, people donate one or two gifts. Later that day, Anni came with his two girls and they all brought all 15 nice gifts.
And oh. I can never forget support and hard work of Sergei Orlov. He volunteered to drive all of volunteers with gifts in his bus to Samgorodok which is long distance to drive.
Then there is a story of Thwaites Family. Nigel Thwaites and Lyolya Thwaites offered their support immediately when they learned about our Angel's Program. Nigel celebrated his birthday and collected 20,000 UAH instead of his birthday presents and donated to support charity.
I can honestly say that our great city of Kyiv has real angels within supporting our organization.
Is it possible to combine Business and charity work?
For sure, it can be done and I love to do both. As I said before, it is my style of living and gives me special satisfaction as a woman. Specially when I have many great and hard-working volunteers to support our cause. We all are different but have same common goal to GIVE back to our community.
Why do you think it is important to GIVE?
For me; to GIVE is a great satisfaction in life. We all know that our community has many disable and neglected children who really needs our support to make their life a little more comfortable and feel cared about.
I wish all of us do not stop to look with our uniqueness and share with community and make a better place to live. Right now, we all can do nice things to uplift our community. Let us make a step forward for gift of GIVING this holiday season.
Please join me on Facebook to learn more about Angel's Program and Kyiv Lion's club.
Thank you and I wish you all a happy Holiday season.